My watch partner, for the most part, rejects any suggestion that dates more than 3 or 4 years old. So, I made sure to show her the trailer before she could see the release date of 2011. After watching the trailer she gave it the thumbs up quickly, based on the fact that it looks strange and morose. As for myself, I was trying to remember what I was doing in 2011 that made me so busy that this one got by unnoticed.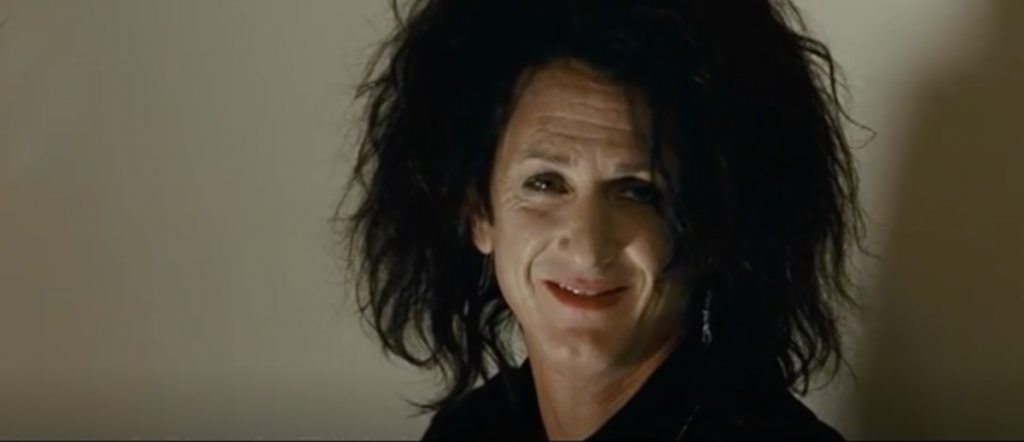 Cheyenne is a retired pop star known for his Goth stylings and sad, dark, lyrics. He appears stuck in a time-warp, never evolving beyond the dark fashion of his bygone pop star ways. However, this person isn't just fashionably dark. As the story unfolds Cheyenne reveals the depth of his angst, which is rooted in a dysfunctional relationship with his father, alienation from his Jewish heritage, and the burden of guilt that followed in the aftermath of teenage suicides that were popularly attributed to the influence of his art.
Cheyenne is ripe, and long overdue, for redemption, and coming of age. The death of his unloving father leaves him with a strange inheritance that leads to go on a grim quest, which sets the stage for peculiar places and experiences.
There are some pleasant surprises in this production. There is the performance by Francis McDormand as Jane, Cheyenne's faithful wife of thirty five years. Also there is Judd Hirsch as Mordecai Midler, the legendary Nazi hunter. This film also features David Byrne, as himself, who plays the role of fellow musician, and an old friend to Cheyenne.
For some light comedy, and introspective themes, this is good entertainment. You should check it out.