I'd probably watch anything with Willem Dafoe in it. However, I probably would not watch a film about the life of Vincent van Gogh. But when I saw that Willem took this role, I decided it was worthy of a mental note — I'll watch this some day!
That some day was yesterday.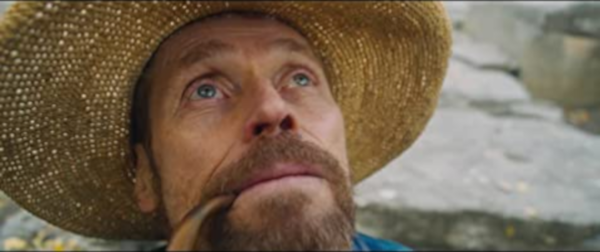 My feelings about Van Gogh are generally not very positive. Based on the anecdotes from my high school art education, and passing mentions of him in various other bits of information that I've been exposed to, Van Gogh was a weirdo that was likely suffering from the affects of lead poisoning as a consequence of the practice of mixing oil paints in his mouth. It's no wonder that he was in and out of mental institutions and prone to doing bizarre things, such as cutting off his ear as a gift to a prostitute.
I have to say that Willem's portrayal gives Van Gogh some depth and relatability that I didn't expect. It might be a mistake to just accept this movie as a documentary. However, in my opinion, it is a mistake that this film did not include anything about lead poisoning, which is very likely a real part of the story that could explain some of Van Gogh's odd behavior. Naturally, I was watching for the gore after the ear cutting scene. Instead, I caught glimpses of an unharmed ear on Dafoe's head. I'm not sure if this technical shortcoming spoils the the suspension of belief anymore than a well done severed ear makeup job, which I was eagerly awaiting. Also in the category of technical criticism, I am a little put off by movies where all the characters speak fluent English, when they are clearly portrayals of characters that never spoke English. (Van Gogh was known to have spoken English. But it was unlikely he spoke English to everyone he interacted with while living in France.)
Despite my technical complainery, it is a believable and interesting portrayal of Vincent Van Gogh.
This movie tells a story about an artist who feels driven to paint, and do nothing else even if it means a life lived in poverty, as an outcast. Van Gogh felt compelled to capture images that had not been captured before. He wanted to highlight the beauty in forms that are generally ignored. He was compelled to capture images as fast as he could get the paint onto the canvas. These features became the foundation of his unique style, which many people of his time regarded as just plain ugly and absurd.
At one point in the movie Van Gogh is questioned about having given his severed ear to a prostitute, and Van Gogh simply replies "Gabby is not a prostitute." I think this moment captures the full essence of the story. Van Gogh was not a madman any more than his friend at the tavern was a prostitute. Today we might think an artist finding the beauty in the mundane is a normal part of art. But there was a time this seemed ridiculous.
Whether your a fan of Van Gogh, a fan of Dafoe, or perhaps just a fan of the strange, this is a movie for you. Check it out.
https://www.imdb.com/title/tt6938828/?ref_=fn_al_tt_1