I skimmed the trailer and made sure I got my watching partner's thumbs up. There were elements of some supernatural, and some elements of American racism. I was kind of expecting a horror suspense flick. But I wasn't sure, really.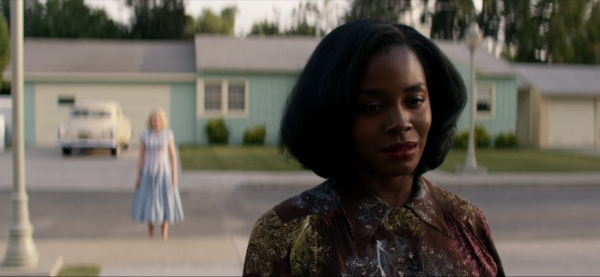 After a few episodes it was clear that I was watching something unlike anything else. There have been many productions that tell the story of racism in America. But this is done in a truly new way. The supernatural elements, that make the trailer seem like it might be a horror flick, are actually used in a very unusual way. The ghosts, and the elements that haunt the characters, are the specters of PTSD presented to the viewer in ways that deliver the raw emotions they way they should be experienced. This unique style and aesthetic are very effective in bringing these stories to life in a new way.
I am honestly blown away.
The performance that Allison Pill delivers as the evil cliche of a suburban white housewife Betty, is chilling. Given how toxic this character is, I imagine an actress might hesitate to take this role. But she plays this character with true gusto, in a way that is authentic and credible. Bravo Allison.
Deborah Ayorinde is no less courageous in her portrayal of "Lucky" Emory. This character is deeply traumatized in a brutal racist attack, and is haunted from then on by visions that are difficult to differentiate from what is real. Hey, go to California where everything is better! However, this story illustrates that the things that haunt you will inhabit you, wherever you are.
I don't just recommend this series. I urge you to check "Them" out. This series is excellent.